Don't start your next EDI project until you try RDPCrystal EDI Library
.

EDI data using

.Net | NodeJS | JavaScript | .Net Core
Software made by EDI Developers for EDI Developers
More than a decade ago our developers were looking for EDI components just as you are right now.  The components also had to be fast, robust, configurable and easy to use.  We could not find any libraries that had all the features we were looking for.  
We decided to build our own.  After 1.5 years of conducting all the EDI research and becoming experts on EDI specifications we released RDPCrystal EDI Library.  11 years later we now service some of the largest companies in the US and around the world.
Our Mission
Making EDI simple to use and understand
Enable companies to use EDI effortlessly
Provide fast, robust and dependable EDI components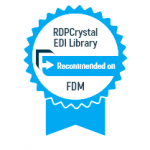 99.9% of Customers Recommend RDPCrystal EDI Library
Randy Kriss
Senior Director
"Give the designers my praise for creating such a flexible system
The more we use EDIValidator the more we are impressed with it and see more uses in the future.  It has helped identifying errors and we created some of our own custom rules. (with your fabulous support).  "

Tim Darnall
Senior Architect
"Absolutely Amazing. If you ever need a direct reference for your product or services, count me in. I am completely floored by both the product and the Customer Support. Absolutely amazing!"

Alexander Anikin
Development Team Lead
"Your .Net EDI library is the best on the market!"

Edhy Rijo​
Software Developer
"There are a lot of good things to say about RDPCrystal EDI Library: the quality of their work, the excellent support service, and the well-designed structure of their classes…" 

RDPCrystal EDI Library Suite Components
All components work together for the fastest, most stable and robust EDI environment
In this tutorial we'll discuss how to parse, load and validate EDI data using NodeJS.   EDIValidator is arguably one of the most important components in
Read More »
In this tutorial we'll discuss how to parse, load and validate EDI data using C#.Net.  Any .Net compatible language can be used, for example VB.Net. 
Read More »
In this tutorial we'll discuss how to use External Code Lists to validate element data.  By default some EDI elements can only contain specific values.  For
Read More »